San Juan Capistrano, CA – May 20, 2023 – Karin Binz and Julia Rossow rode Meant To Be and Crowd Pleaser, respectively, to USHJA National Hunter Derby victories on Friday, May 19, during the Surf & Turf International CSI2*, hosted by Blenheim EquiSports in San Juan Capistrano, CA.
Rossow and Crowd Pleaser, owned by West Coast Equine Partners LLC, were the first pair in the winner's circle on Friday at the Rancho Mission Viejo Riding Park after topping the $5,000 USHJA National Hunter Derby – Open.
"On Friday mornings, [Crowd Pleaser] knows that it's derby day!" said Rossow of the 16-year-old Selle Français gelding. "He rests up for it at night. Our wonderful braider, Peggy Thompson, always tells me in the morning, 'He is ready! He laid down and slept all night!' He comes out extra bright eyed and focused and ready to go for the derby which is really funny. He's a really intuitive horse. He knows the derby is special. He really likes it, and he really thrives in the format."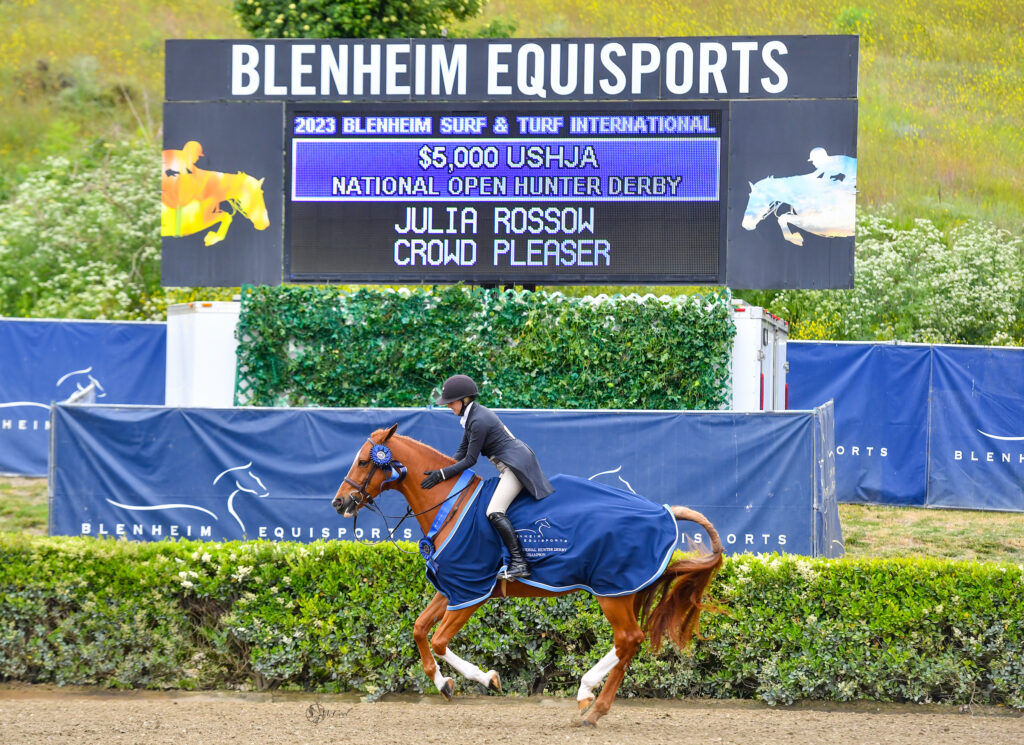 Crowd Pleaser certainly rose to the occasion during the Surf & Turf International, earning scores of 89 and 90 for a 179 total in the Hunt & Go format class. Finishing in second place with scores of 89.5 and 89 for a 178.5 total were Jamie Sailor and Vanilla Ice, owned by Nick Haness. Gabriela Pattinson and Kingston ASG finished in third with scores of 87 and 89 for a 176 total.
"I loved it!" said Rossow of the class and the one-round course set by Scott Starnes. "The Hunt & Go is really fun because, you always have to have strategy throughout the whole derby, but I like that the strategy changes from the classic round to the handy round mid-course. There was a really nice flow to the course; there were some really fun handy options to do. If you knew your horse, you knew where you could challenge them. You could really make some fun decisions and make the course really brilliant. It was very open to that, shaping it to let your horse shine in the best way. It keeps you attentive and excited from each turn to turn."
In the $5,000 USHJA National Hunter Derby – Junior/Amateur, the class marked both Binz's first time competing in a Hunt & Go format class and her first hunter derby victory.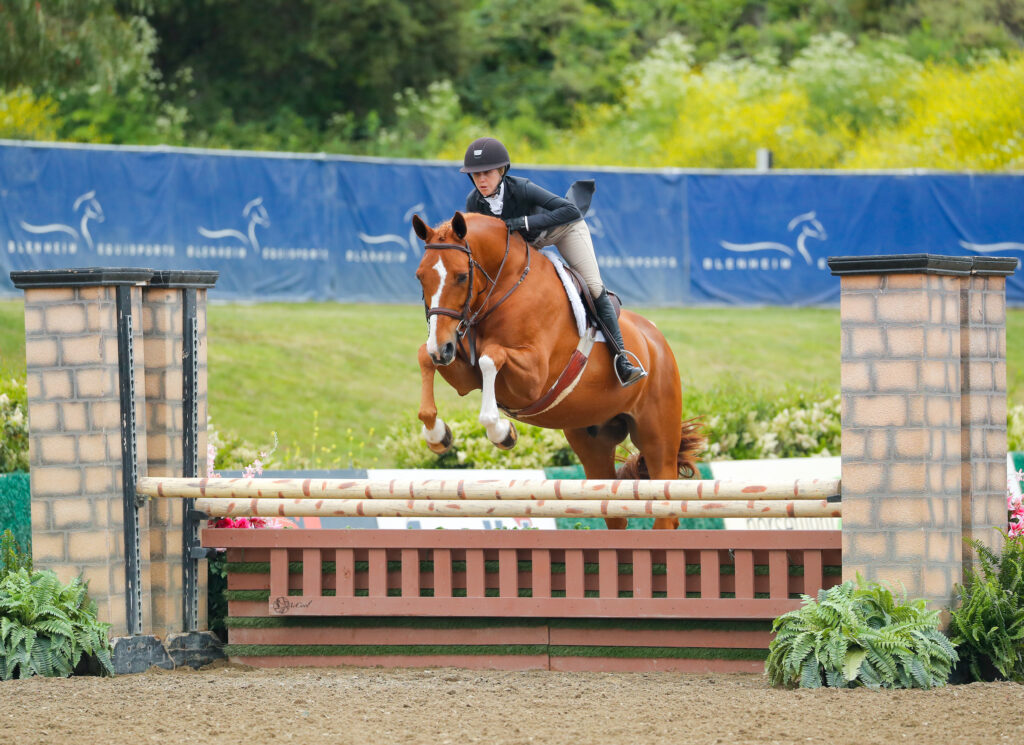 "I don't particularly do [hunter derby classes] very often because they're a little bit more expensive," explained Binz. "So, it's super exciting for me. I'm kind of in shock, I'm not going to lie. I don't think it's really sunk in that I did it!"
Binz and her 13-year-old Warmblood gelding earned scores of 85 and 87 to take the win with a 172 total score. Dual scores of 85.5 for a 171 total helped Catherine Sorrentino earn second place aboard her own Goldfish, and third place with scores of 84.5 and 86 for a 170.5 total went to Shannon Kelly and Can Do This VA, owned by Hermosa Sport Horses.
Binz, who recently began training with Paige Dendiu at Highland Farm, works as a braider by trade and balances riding and competing her longtime partner Meant To Be, or "Lucky," with braiding at a large number of horse shows.
"I wanted to take Lucky to horse shows that I didn't have as much work at so that I could enjoy the horse shows," explained Binz. "I wanted to be able to groom him myself, so that I could participate and not like just carve out a minute for him."
For her win on Friday, Binz was also presented with the Leading Amateur Hunter Derby Rider Award, which includes a one-month supply of Nutrient Scoop from Mary's Tack & Feed.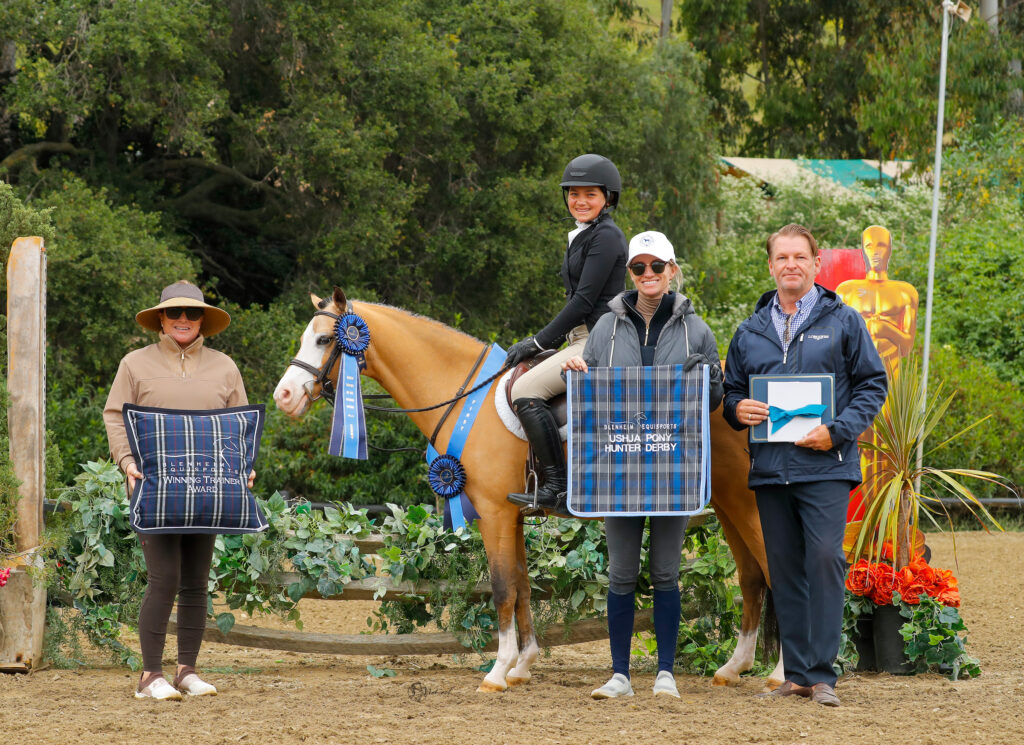 Also earning a derby win on Friday was Lauren Padilla who rode Bit A Country, owned by Megan Padilla, to the win in the $1,500 USHJA Pony Hunter Derby.
For full results of all three of Friday's USHJA Hunter Derby events, click here or visit Blenheim.ShowGroundsLive.com. To learn more about competition at Blenheim EquiSports, visit ThePlaceToJump.com.