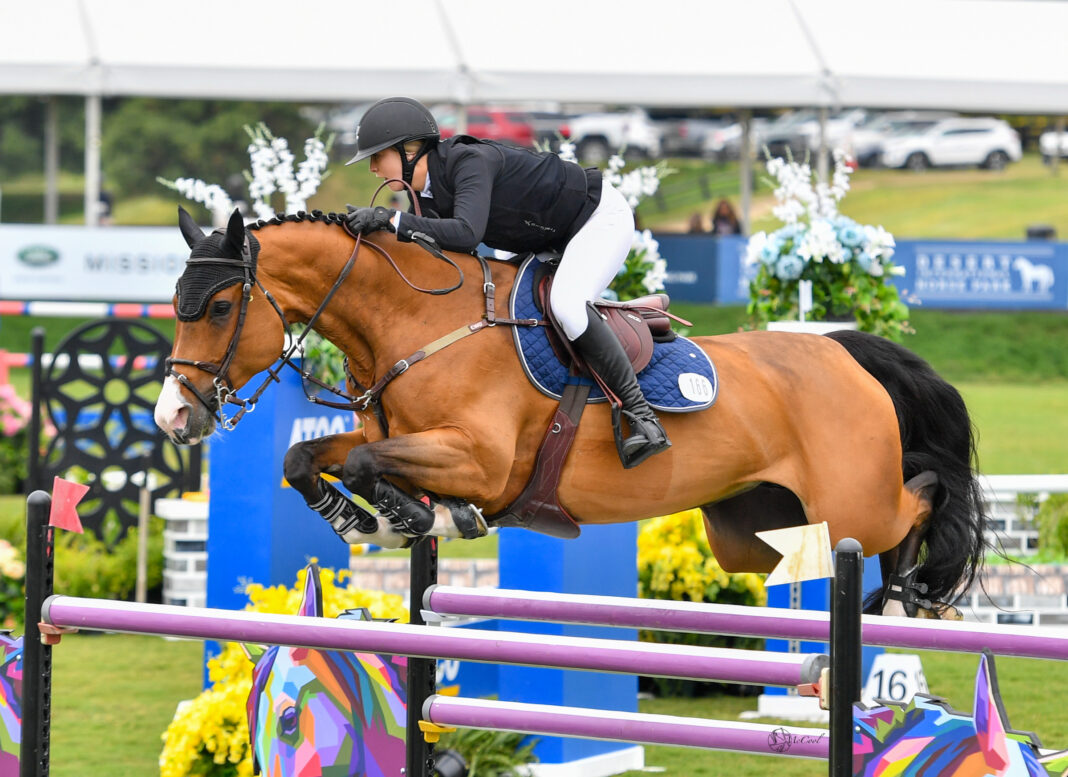 San Juan Capistrano, CA – May 24, 2023 – Elisa Broz and Tinkerbell flew to victory in the $77,300 CSI2* Blenheim Surf & Turf International Grand Prix on Saturday, May 20, to cap off a highly successful week in San Juan Capistrano, CA, for the duo.
Fresh off a win in Thursday's $38,700 CSI2* 1.45m Speed Classic, Broz and Tinkerbell returned to the Oaks International Grand Prix Field to clinch their second victory during the Surf & Turf International at the Rancho Mission Viejo Riding Park.
As one of three entries to navigate the Catsy Cruz-designed course without fault, Broz was the first to return for the jump-off, and she set the time to beat at an uncatchable 35.14 seconds. Finishing in second place with a clear jump-off time of 37.03 seconds were Skylar Wireman and Crunch K, owned by MJ Kaplan, and third place went to Katie Kehring and her own King-Boy.
"My horse is very naturally fast," said Broz of Tinkerbell. "She's pretty quick over the jumps and on the ground. I talked with my coach Cassio [Rivetti], and we decided to be efficient, be fast, but let her do her thing in the jump-off. As long as I'm on the ball and staying efficient in the corners, she gets the job done, which is always nice. She's pretty careful, so I just ride the track and trust her and let her do her job."
While Broz has learned how to ride Tinkerbell's speed to great success in their two years together, it was not always that way. In fact, in the beginning of their relationship, their rides at Blenheim EquiSports looked quite different than Saturday's impressive performance.
"When I first got her, I wouldn't say that I had a lot of control of her!" joked Broz, 18. "At Blenheim, at our first horse show, I think maybe I didn't have the right bit on, she was just really hot. I think I did seven laps at a dead gallop! Now, we found the right bit, and I ride with Cassio Rivetti, so she's in a really great training program."
While the 13-year-old Mecklenburger mare has a lot of blood in the ring, Broz says her personality is quite different in the barn.
"She's a really sweet horse on the ground; she has a very gentle personality," explained Broz. "She loves naps. She's a big napper. She's kind of a people pleaser. I know she's a horse, but it's that kind of personality. She just tries really hard all the time. She's been such a good girl, always, always a good girl."
"The team that I have behind me has done such a good job with Tink and also with me," continued Broz. "I'm just very, very thankful for my barn, my groom, my trainers and of course my parents. They're what makes everything run smoothly."
For Saturday's win, Broz received a Topline Design Ribbon Wreaths gift certificate and a Riderzon gift certificate. For full results of the class, click here.
At the conclusion of Saturday's grand prix, the final points were tabulated, and the $25,000 ATCO Spring Series Leading FEI Rider Bonus checks were presented.
Following a neck-and-neck battle throughout the Blenheim Spring Classic I & II in April and the San Juan Capistrano International and Surf & Turf International in May, Bruno Diniz Das Neves earned the top spot on the leaderboard. With 241 total points, Neves was presented with the first-place check for $15,000. Second place and a $7,500 check went to Matias Fernandez Cuevas, who earned 234 points, and Shawn Casady took home the $2,500 third-place check with 211 points. To view the full final standings, click here.
Cuevas, Wireman and Rivetti Ride to Victories
Also earning jumper wins throughout the week at the Surf & Turf International were Matias Fernandez Cuevas, Cassio Rivetti and Skylar Wireman.
Cuevas kicked off the week's CSI2* competition with victory aboard Dancing in the Dark Z, owned by Lauren Kee, in the $2,000 1.40m Power & Speed held on Wednesday, May 17. The pair was one of 18 entries to take on the two-phase track set by Catsy Cruz, and they blazed to the win in 37.15 seconds. Finishing in a close second place with a speed-phase time of 37.53 seconds were Cassio Rivetti and his own Caracas.
While Rivetti and Caracas were four one-hundredths of a second off the win on Wednesday, they got their turn in the winner's circle on Friday after topping the $15,000 CSI2* 1.40m Winning Round.
The top 10 in the first round all returned on a clean slate for the second round in Friday's class, and Rivetti and the 14-year-old Holsteiner gelding blazed to the win in 45.05 seconds while also becoming the only duo to jump double clear. Second place with a time of 47.81 seconds went to Matias Fernandez Cuevas and Dancing in the Dark Z, and Nicole Dicorti Bush and Chelly Raa took third with a time of 50.58 seconds. For full results, click here.
The win in the $5,000 Markel Insurance 1.35m Open Jumper Classic went to Skylar Wireman and Eagle Eye DVP, marking Wireman's first victory in the popular Markel Insurance 1.35m Jumper Series. She and the 14-year-old Dutch Warmblood gelding, owned by Lindsay Maxwell, were one of eight entries from the 19-horse starting field to advance to the jump-off, ultimately stopping the clock in 34.543 seconds. A time of 35.991 seconds would give second place to Jamie Sailor and Atlantic DVZ, and Laura Hite and Chagall de Toscane took third. For full results of the $5,000 Markel Insurance 1.35m Open Jumper Classic, click here.
To learn more about all competitions at Blenheim EquiSports, visit ThePlaceToJump.com.