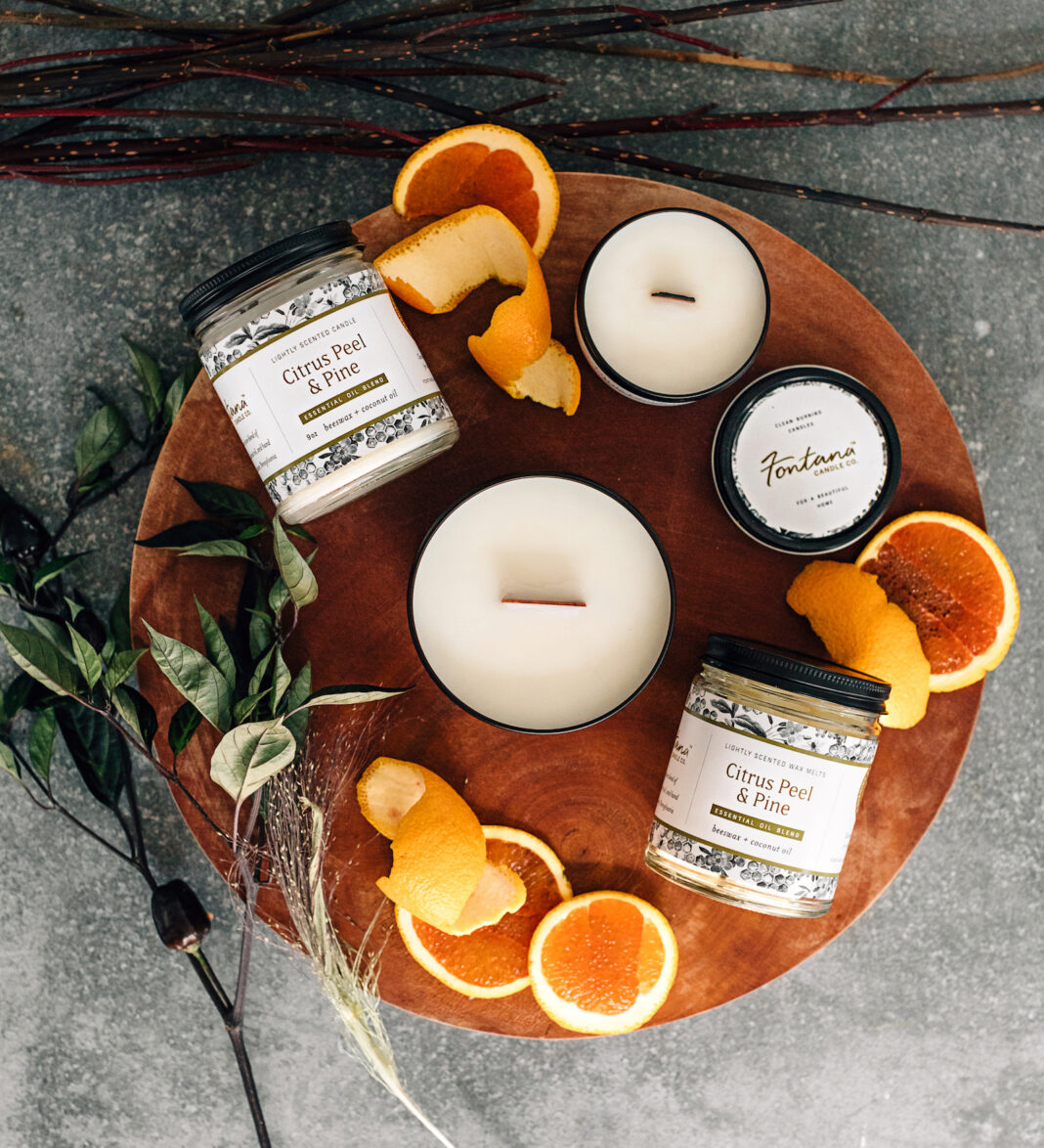 Mount Joy, Pa. – Fontana Candle Company has announced the release of three new scents for the 2020 fall and holiday seasons. The newest additions of Citrus Peel and Pine, Peppermint Twist and Spiced Latte will round out the popular non-toxic candle manufacturer's holiday collection, already featuring Cinnamon Orange Clove, Fraser Fir and Winter Green.
All of the candles within the collection are made with only three ingredients, providing clean-burning alternatives to traditional, seasonally fragranced candles.
"I recently pulled the Safety Data Sheet for a 'Toasted Pumpkin Spice' fragrance oil from one of the most-trusted candle ingredient suppliers in the U.S., and the list of ingredients was extensive – coumarin, benzyl benzoate, cinnamaldehyde, ethyl vanillin, cinnamyl alcohol and so on," said Katie Roering, co-founder of Fontana Candle Company.
"We want our customers to know exactly what they're breathing in and to feel good about filling their homes with clean scents, not chemicals, which is why all of our candles are made with only beeswax, coconut oil and essential oils," continued Roering.
By utilizing only these ingredients, Fontana Candle Company's Spiced Latte candle becomes one of the first truly 100-percent-natural spiced latte candles on the market. The hand-poured Spiced Latte candles feature hints of coffee, ginger, nutmeg and clove, embodying the fragrance of fall.
The new Citrus Peel and Pine candles are derived from a combination of Fontana's popular Cinnamon Orange Clove and Fraser Fir essential oil fragrances. The Citrus Peel and Pine blend perfectly combines the crisp aroma of pine needles with savory and spicy cinnamon and notes of orange and clove.
The Peppermint Twist scent is made from peppermint essential oils – steam distilled from the leaf of the plant – and hand blended with sweet orange essential oils, cold-pressed from oranges grown in Brazil.
Each of the fall and winter scents are available in six-ounce tins, nine-ounce jars, and 14-ounce tins, all containing a single wooden wick. The six-ounce tin has an average burn time of 20-25 hours, and the 14-ounce tin has an average burn time of 55 to 60 hours. Wax melts of each scent are also available.
Shop the candles and find additional information online at www.FontanaCandleCompany.com.
About Fontana Candle Company
Based in Mount Joy, Pennsylvania, Fontana Candle Company was founded in 2018 by Eric and Katie Roering. The couple previously received a paraffin wax candle as a holiday gift, but, after a day of burning the candle, they were surprised to have both developed headaches. After researching candle ingredients, they were alarmed to discover how many toxins are present in conventional candles. The Roerings began researching clean alternatives and experimenting with pouring their own candles, and not long after, Fontana Candle Company was launched with a commitment to producing clean, non-toxic candles. Today, the candles are made with beeswax, coconut oil and essential oils, and formulated to provide clean-burning, non-toxic alternatives to traditional candles. Learn more by visiting www.FontanaCandleCompany.com.