Las Vegas, NV – Tuesday, November 14, 2023 – After attending a rodeo at the South Point Hotel, Casino & Spa, Katie Laurie quickly decided that she needed to add the Las Vegas National CSI4*-W, held at the same location, to her horse show calendar.
So, the Australian native made the trip from her home base in Calgary, AB, to be a part of this year's show, running through November 19, and that decision has already proved well worthwhile. On Tuesday afternoon, Laurie and Boom claimed victory in the first FEI class of the week, the $8,000 CSI4*-W 1.35m Blenheim EquiSports "Viva Las Vegas" Two-Phase Stake, presented by Tack of the Town and Ogilvy Equestrian.
"It's so cool [here]; we came to the [National Finals Rodeo] last year, and we were like, 'We wish we had gone to the horse show!' So, this year, we decided to come!"
Laurie and her own homebred mare, Boom, were one of 32 entries to take on the power-and-speed course set in the South Point Arena by course designer Olaf Petersen. When they entered the ring, the time to beat in the speed phase had been set at 40.30 seconds by the USA's Scarlett Wallis aboard her own Samurai.
With Boom's naturally fast foot speed on her side, Laurie shaved off nearly four seconds, stopping the clock in 36.96 seconds for the win. Wallis' time would hold up for second place, while third place with a time of 41.51 seconds went to Charlotte Jacobs of the U.S. riding Thomascourt Ballypatrick, owned by North Star.
For the victory, Laurie received an Ethel M Chocolates Premium Chocolate Gift Basket, an Ogilvy saddle pad, a Blenheim EquiSports coolerette, a Topline Design Ribbon Wreaths custom picture frame and gift certificate and horse treats, courtesy of Horseflight.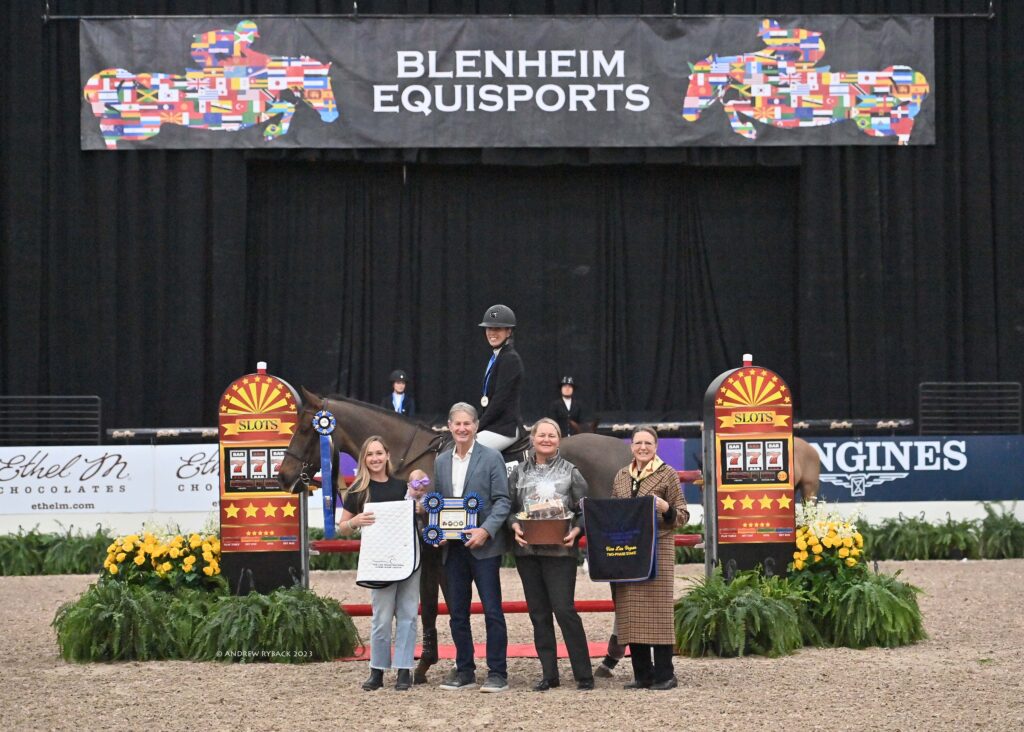 "[Boom] was really good today," said Laurie. "She was a bit fresh because she's come from Calgary. It was a long trip, and then I gave her two very easy days, so she was ready to go today. I tried to keep her pretty calm in the first phase, and then, once we got to the second phase, you can let the gas go on her."
Laurie continued, "She's a really fast horse in most classes. She's only 9 years old, so she's not super experienced yet, but she's going to be a pretty fun, winning horse."
While the 9-year-old New Zealand Warmblood can turn it on in the ring, back at home, she is a family horse.
"My daughter actually is 9 years old as well," said Laurie, who has watched her daughter and Boom grow up together. "She does ride her a bit at home and loves her. I could put my daughter on her here, and I would completely trust her. She's enough blood, but she's safe."
In addition to Boom, Laurie is competing two other mounts this week at the Las Vegas National, including another homebred, Django II. When she's not in the ring, however, Laurie is making time to enjoy a bit of all that Las Vegas has to offer.
"We actually got tickets for Keith Urban [Wednesday] night, and we're going to the Formula 1 on Friday. We thought we'd try to fit some fun things in while we're here!" concluded Laurie.
For full results of Tuesday's $8,000 CSI4*-W 1.35m Blenheim EquiSports "Viva Las Vegas" Two-Phase Stake, click here.
The Las Vegas National CSI4*-W, featuring the Marshall & Sterling Insurance / USHJA National Championships, continues through Sunday, November 19, with the featured $226,000 Longines FEI Jumping World CupTM Las Vegas, taking center stage on Saturday evening, November 18. Admission is free for all events, with the exception of Saturday night, with tickets available for purchase here.
While at the South Point Hotel, Casino & Spa, competitors and guests are encouraged to also join in the Formula 1 Las Vegas fun, with a Formula 1 Las Vegas Grand Prix Viewing Party being held in the Showroom at South Point on Saturday evening following the conclusion of the Longines FEI Jumping World CupTM Las Vegas.
Learn more about the Las Vegas National CSI4*-W at TheLasVegasNational.com.