Harrisburg, PA – Kelly Tropin Whitridge and Chablis have been partnered for nine years, and for four of those years, they have ridden away with the Amateur-Owner Hunter 18-35 division championship at the Pennsylvania National Horse Show.
Those odds are made even more impressive by the stiff competition each year in Harrisburg, PA, and by the fact that, for three of those years, Whitridge and Chablis have also clinched the Grand Amateur-Owner Hunter Championship – including on Thursday, October 19, 2023.
"[Chablis] is, in my objective opinion, the best horse ever," said Whitridge, who was presented with the Legend Has It Perpetual Trophy, donated by Rolling Acres Farm, for the grand championship. Chablis' groom, Leonardo Lachia, was also presented with the Prince Charming Award, donated by Caroline Moran, as the Grand Amateur-Owner Hunter Groom. "This is probably [Chablis]'s favorite venue. This is his fourth championship at Harrisburg, his third grand championship, and he was reserve twice as well."
While many riders may feel the pressure when returning to continuously defend their championship, Whitridge instead chooses to simply savor each moment.
"I think you can kind of pick how you want to think about it; I could focus on it being a lot of pressure to perform again, but instead I told myself to just be grateful," explained Whitridge. "I know I'm never going to have a horse like this again, so I really try to enjoy every second."
Whitridge's trainer, Peter Lutz, purchased Chablis when the now 15-year-old Württemberger gelding was just 4 years old, and Whitridge purchased him from Lutz two years later.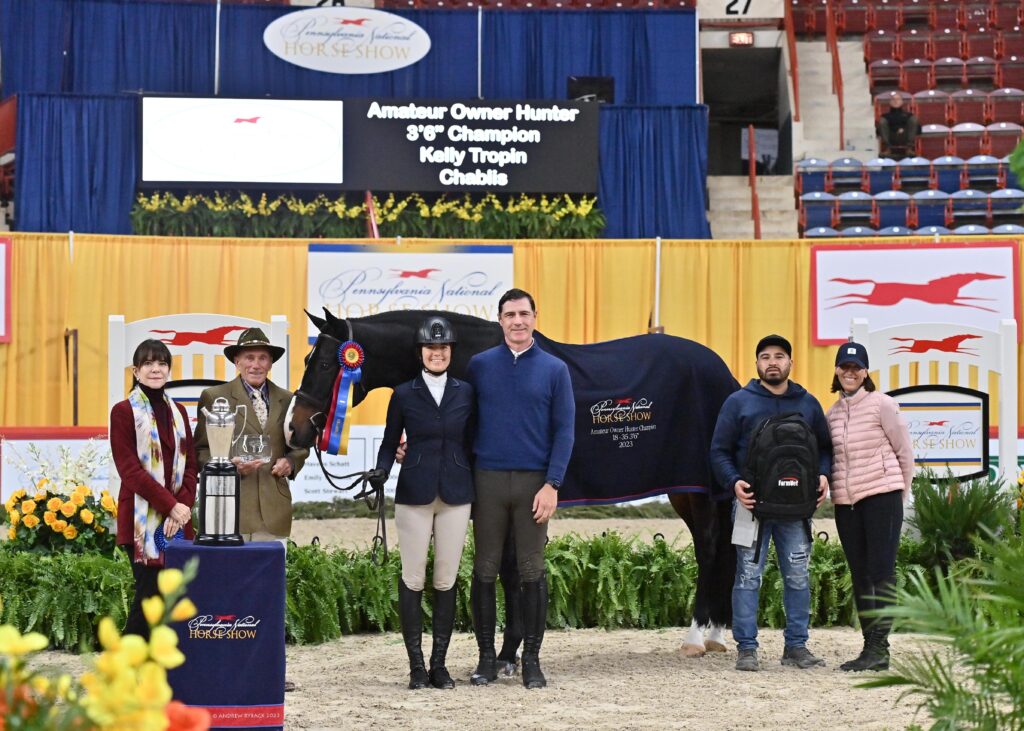 "It's hard to believe he's an older horse now," said Whitridge. "I have a hard time thinking of him as older since we have had him since he was a real baby. With him being 15, I tried to come in with no expectations. It was a long day for him yesterday – two jumping rounds and an under saddle – so a lot of walking back and forth. We rode him this morning, and we thought, 'Oh my gosh! He feels better than yesterday!' So, we were thrilled with that, and we got a 92 today, so I'm really proud of that. It was really better than we were expecting."
In addition to the Grand Amateur-Owner Hunter Championship, Whitridge and Chablis' results earned them the Amateur-Owner Hunter 18-35 Championship.
"Being here [at the PNHS] has been a lot of success with him, but also it reminds me of when I was a junior and did not have any success here," concluded Tropin. "It just reminds me, honestly, of how long and how hard I've worked to have a horse like this and perform well. Peter [Lutz] has been my trainer since I was 13 years old, and now I'm 32. We've come a long way. So, I think of the amazing moments but also the tough moments that made all of this possible."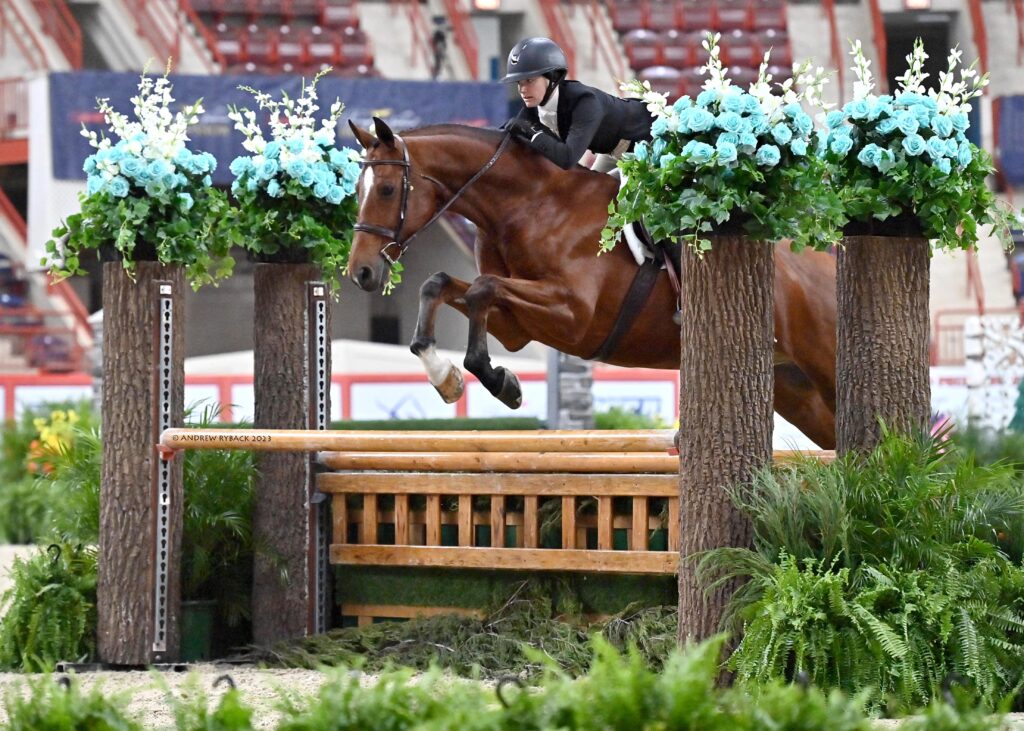 The reserve championship in the Amateur-Owner Hunter 18-35 division went to Caroline Ingalls and Concerto. That tricolor was just the first of many accolades for the duo on Friday, as they also earned the win in the $10,000 Amateur-Owner Hunter Winner's Stake, sponsored by the Ingram Family; the EMO Agency Amateur-Owner Hunter High Five Award and the Overall Amateur-Owner Hunter High Five Award with the highest score of the horse show (a 93).
In the Amateur-Owner Hunter 36 & Over division, the championship went to Margot Peroni and Just Apple.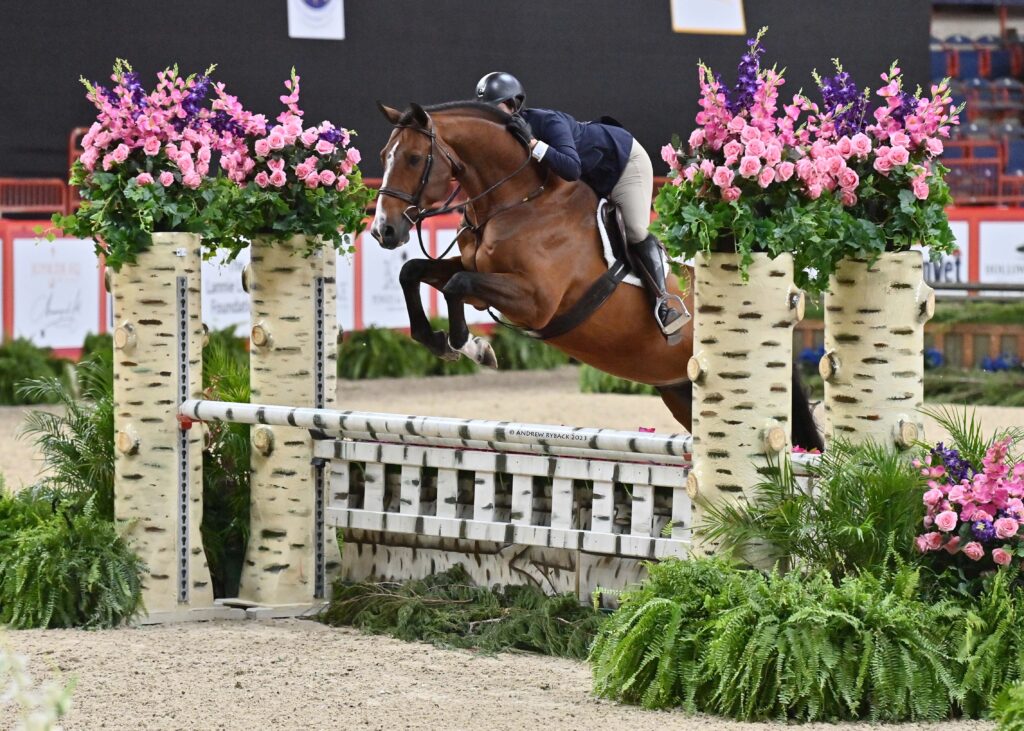 On their way to the top honor in the closely contested division, Peroni and the 9-year-old Dutch Warmblood gelding earned a win and two fourth-place finishes over fences and a fourth place in the under saddle. Finishing as the reserve champions were Lee Kellogg Sadrian and Augustine.
"He has such a big step and a beautiful floaty canter and such a scopey jump," said Peroni of Just Apple, who was just imported to the U.S. last year after competing up to 1.40m in Europe. "We went to try him and instantly loved him from the first time we sat on him. He just makes you feel so confident and brave, and he's just a joy to ride every day.
"I'll probably cry again, but I've been coming here since I was a little kid on ponies; this is my first time being champion here," said Peroni, who grew up in Malvern, PA, and now resides in New Jersey. "To me, this has just been such a goal every single year. This has just always been something that we've worked toward all year long. I'm a very goal-oriented person, so having a show like this and getting to come here for so many years has been incredible. And I have to say, since Pat Boyle took over – the show has always been amazing – but he's taken it to that next step. The new schooling area is so amazing and having the double rings and being able to bring some of the younger horses, it's just been even more of a treat to be able to be here."
An added bonus for Peroni? The barn manager at the very barn she rode at as a kid, [Judy Frederick of Lowkey Farm] joined her in Harrisburg to groom for the week. "I needed someone to come help me because I left a bunch of horses at home, so I put a little post on Facebook, and she called me immediately and came to help me this week, so it's a total full circle moment!"
Brad Wolf and Sebastian Shine in 3'3" Amateur-Owner Hunters
Brad Wolf is no stranger to the winner's circle, having won numerous championships at "Indoors," including the PNHS. However, on his way to claiming the 3'3" Amateur-Owner Hunter Grand Championship, sponsored by Fayetteville Farm, Wolf accomplished something he never had before.
"This is the first time in my career that I have ever won all four classes in the division at Indoors, so it's really special," said Wolf, who was awarded the Art Dunphy Perpetual Trophy, donated by Cathy Sacher, for the Grand Championship.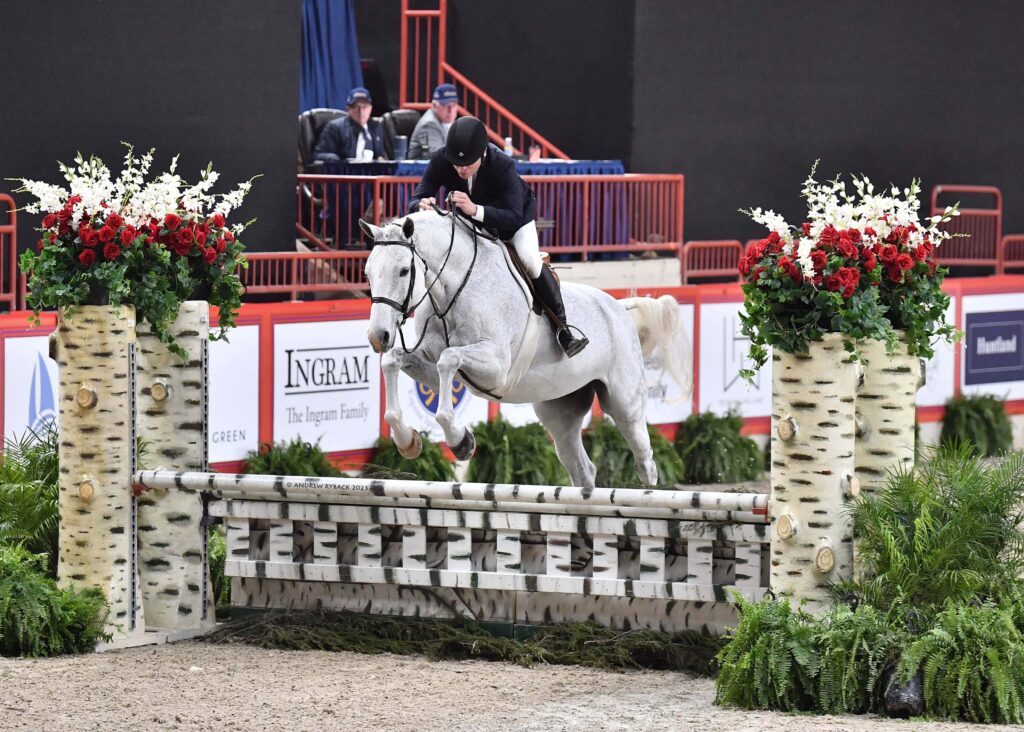 ["Sebastian's] just been perfect the whole time," continued Wolf in speaking of the 13-year-old Holsteiner gelding. "He's awesome. He was reserve two years ago, champion last year and then champion and grand champion this year, so it's been wonderful. We're climbing each year, and he's just the best. He just likes you to sit still, don't touch his mouth, just let him do his thing. If you do, he's fine. He'll take care of you, and he's just easy – probably the easiest horse I've had."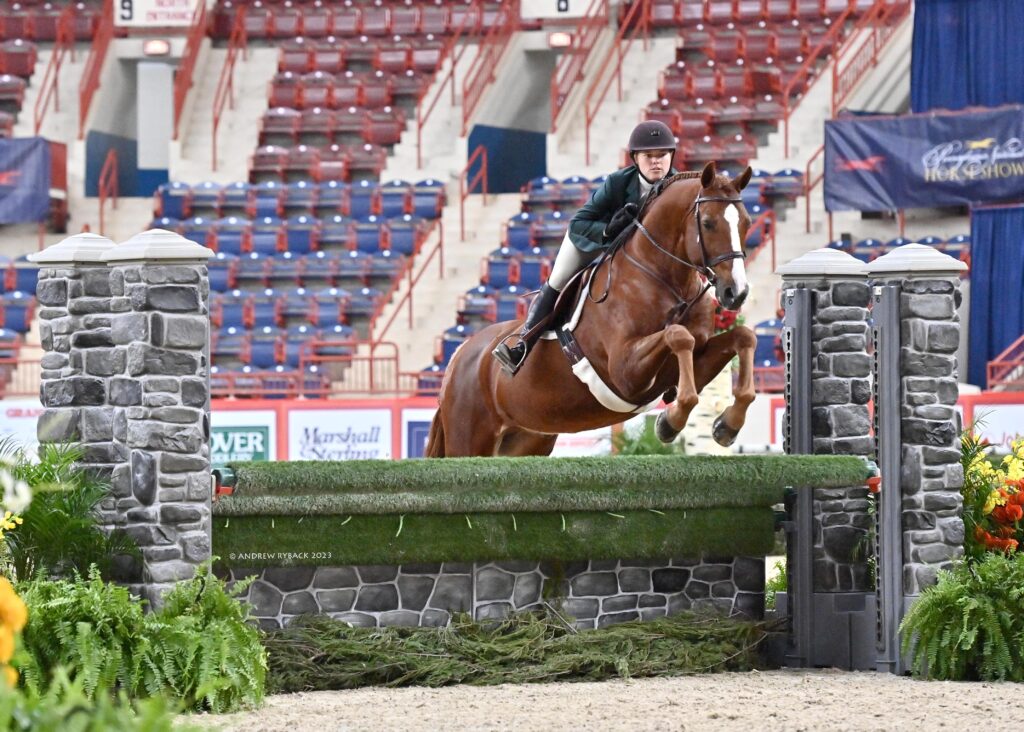 Sebastian will now head south, where he will enjoy a few months of rest and relaxation before the start of the winter season in Wellington, FL – but Wolf made sure to first make Harrisburg, PA, their final show destination of the year.
"I love [showing here]; the pageantry is great," concluded Wolf. "Everything is well done, even the stabling. It's just a really well put on horse show and one of my favorites."
While Wolf earned the 3'3" Amateur-Owner Hunter 36 & Over division championship, sponsored by Fox Meadow Farms, the tricolor honor in the 3'3" Amateur-Owner Hunter 18-35 division went to Martha Ingram and Private Practice.
After winning two classes on Wednesday and finishing second in the under saddle, Ingram and the 13-year-old Holsteiner gelding came into the day well in the lead in their division's championship standing.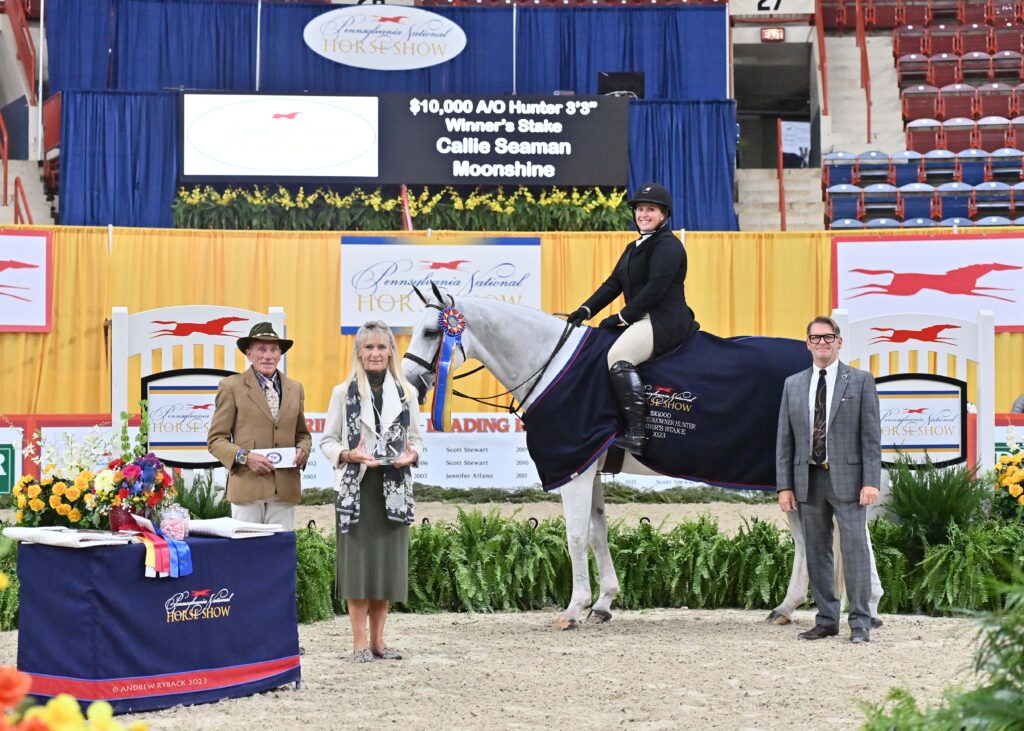 "There really wasn't really any pressure today," explained Ingram, who is a frequent visitor to the winner's circle at the PNHS each year. "I really just wanted to go out there and enjoy. He's a brilliant jumper and really pretty going around, so I just wanted to show a little bit of pace. He jumped amazing.
"He has the biggest personality for such a little horse," continued Ingram. "He loves his people. He's just such a wonderful horse. Every day, before I get on him, I give him a little hug on his head; he'll turn to look at me to do that, and he just has so much personality. He really aims to please. He's hilarious – well, I at least think he's funny! He knows when it's game time."
Earning the win in Thursday's $10,000 3'3" Amateur-Owner Hunter Winner's Stake were Callie Seaman and Moonshine.
For full results of Amateur-Owner Hunter competition at the PNHS, visit pnhs.showmanagementsystem.com.