San Juan Capistrano, CA – April 16, 2023 –The $100,000 CSI3* ATCO Gold Tour Grand Prix held on Saturday, April 15, marked a winning start for two new partnerships – one between Shawn Casady and NKH Cento Blue and one between Blenheim EquiSports and ATCO.
In an exciting finale to the Blenheim Spring Classic II, Casady and NKH Cento Blue topped a field of 26 entries to win the inaugural ATCO-sponsored grand prix at the Rancho Mission Viejo Riding Park in San Juan Capistrano, CA.
Their Saturday victory was the second win of the week for Casady and NKH Cento Blue, owned by October Hill Farm, as the pair also earned the win in Thursday's $40,000 CSI3* 1.50m Gold Tour Speed Stake.
"It felt great today, and it felt great the other day when he won the speed class!" said Casady of the win. "It's a new horse for me, so I don't want to be greedy in any of these classes. I just want to figure out how to ride the best that I can and focus on giving the horse the best ride. It's truly not about winning; it's just about building."
On their way to the win on Saturday, Casady and NKH Cento Blue were one of only three entries to jump without fault over the first-round course designed by Guilherme Jorge, and from there, the race was on.
Young rider Elisa Broz was the first competitor to return to the grass Derby Field, and she and Tinkerbell, owned by Hidalgo LLC, stopped the clock in 36.68 seconds.
"I'd gone up against Tinkerbell with Elisa a couple times this winter with another one of my horses," said Casady. "I would do all the leave outs, and she'd add two places and still be faster. The way that Cento covers the ground though, I can leave out two strides versus one, and he's just quicker across the ground."
Casady continued, "When Elisa went clean and did all the numbers that I was planning on doing to be competitive, I was like, 'Shoot, I don't know how I'm going to be faster than that!' – just because I know how much foot speed her horse has. I ended up still doing all my numbers, except where she did 10 [strides] to the last jump – which was my initial plan – I landed off the vertical and just kicked up in nine, no problem."
Casady and NKH Cento Blue flew over the final blue ATCO oxer in 34.99 seconds to ultimately take the win, with Broz then finishing in second. Third place with four faults in a time of 36.58 seconds went to Skylar Wireman and Chirolito Z, owned by Shayne Wireman.
For the victory, Casady was presented with an ATCO horse cooler, a Topline Design gift certificate and shadow box and a Riderzon gift certificate.
"I'm excited about the ride [on NKH Cento Blue] and very appreciative to October Hill Farm and my team, my grooms and Corinne Bevis – she's helped me build this team out here in California with horses and people," said Casady. "It takes a village; everybody is really believing in me and what I want to do and that I can do it, and I really appreciate that."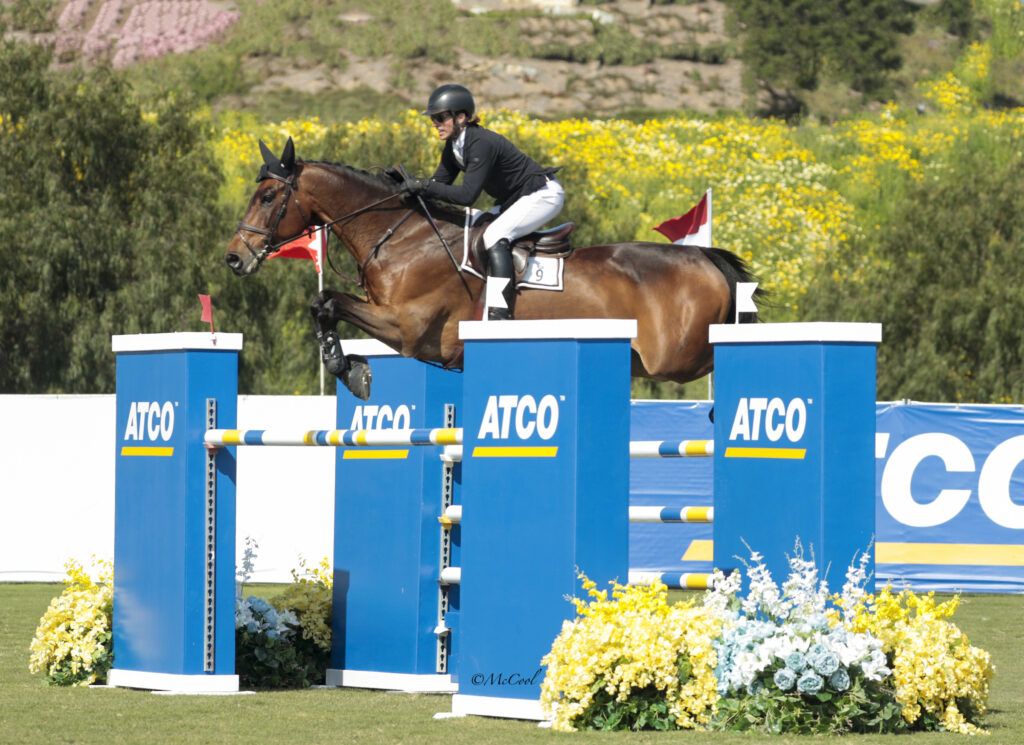 Casady just partnered with NKH Cento Blue less than a month ago after receiving a call from the Heinekings at October Hill Farm.
"I'd ridden horses for October Hill and NKH in the past, and they had always been super, super high-quality horses, so when I got the phone call to ride one of their horses, I was like, 'Absolutely!'" explained Casady. "It happened to be this one and so far, so good. I couldn't have asked for a better two weeks."
Casady continued, "He's a very interesting character. It's funny, the first day that I rode him, I was actually going to the ring to ride another horse before him. The next thing you know I'm just sitting over here petting this one horse because it was really looking at me. I was over there just petting him. Then the groom turns around, and I was like, 'Oh! This is the horse I'm supposed to ride next.' He's just got a really special personality."
Casady's results throughout the Blenheim Spring Classic II now put him into third place in the $25,000 ATCO Leading FEI Rider Bonus standings. The $25,000 ATCO Leading Rider cash bonus will be awarded to the top three riders in the CSI2* and CSI3* classes held during the Blenheim Spring Series – including the Blenheim Spring Classics in April, the San Juan Capistrano International CSI2*, to be held May 9-14; and the Surf & Turf International CSI2*, to be held May 17-21. Currently leading the standings is Matias Fernandez with 145 points, while Bruno Diniz Das Neves sits in second with 141 points. To view the full standings, click here.
The ATCO Leading FEI Rider Bonus is part of ATCO's great support of Blenheim EquiSports and future events at the Rancho Mission Viejo Riding Park in San Juan Capistrano, CA.
ATCO is the driving force behind Spruce Meadows, the renowned competition venue that sets a standard for what Blenheim EquiSports hopes to produce at the Rancho Mission Viejo Riding Park.
"Spruce Meadows is the gold standard," said Robert Ridland, president of Blenheim EquiSports. "Their first event was in 1976, 47 years ago. They've been doing Nations Cups for a very, very long time. We are honored to be able to do the first Nations Cup on the West Coast on May 14, and we hope we can do a little bit of what Spruce Meadows has done for almost 50 years. We say first on the West Coast, but of course it's not the first on the West. Spruce Meadows has been doing it forever."
Ridland continued, "Calgary had vacant land on the outskirts of the city, and they turned it into the greatest show jumping facility in the world – but it's even more than that. It's about community; it's about the various things that people can do on that property. It's open 365 days a year for people to come and just enjoy the park. They have entertainment; they have professional soccer, and of course they have equestrian events. That's the vision that we have here going forward for the next 30 years: for this Riding Park to be even more than it is already, a place for the community." To learn more about Blenheim EquiSports, visit ThePlaceToJump.com, and to find out more about the Longines FEI Jumping Nations CupTM USA coming to Blenheim EquiSports on May 14, 2023, visit www.USANationsCup.com