San Juan Capistrano, CA – April 17, 2023 – Throughout the Bronze Tour classes held during the Blenheim Spring Classic II at the Rancho Mission Viejo Riding Park in San Juan Capistrano, CA, there was one rider who dominated: Nicole Haunert.
Aboard My Lady Lavista, Haunert topped both the $10,000 CSI3* 1.40m Bronze Tour Classic on Friday, April 14, and the $5,000 CSI3* 1.35m Bronze Tour Speed Stake on Thursday, April 13, while also finishing second in the Classic with Concolue.
A starting field of 15 entries in the $10,000 CSI3* 1.40m Bronze Tour Classic – the second event of the Markel Insurance Jumper Series – was whittled down to four for the jump-off, with Haunert constituting two of those clear entries. 
"I think Guilherme Jorge does a great job all the time," said Haunert of the renowned course designer for the week's FEI competitions at Blenheim EquiSports. "I expected some more clear rounds, but again, Guilherme is so good that it was tough enough."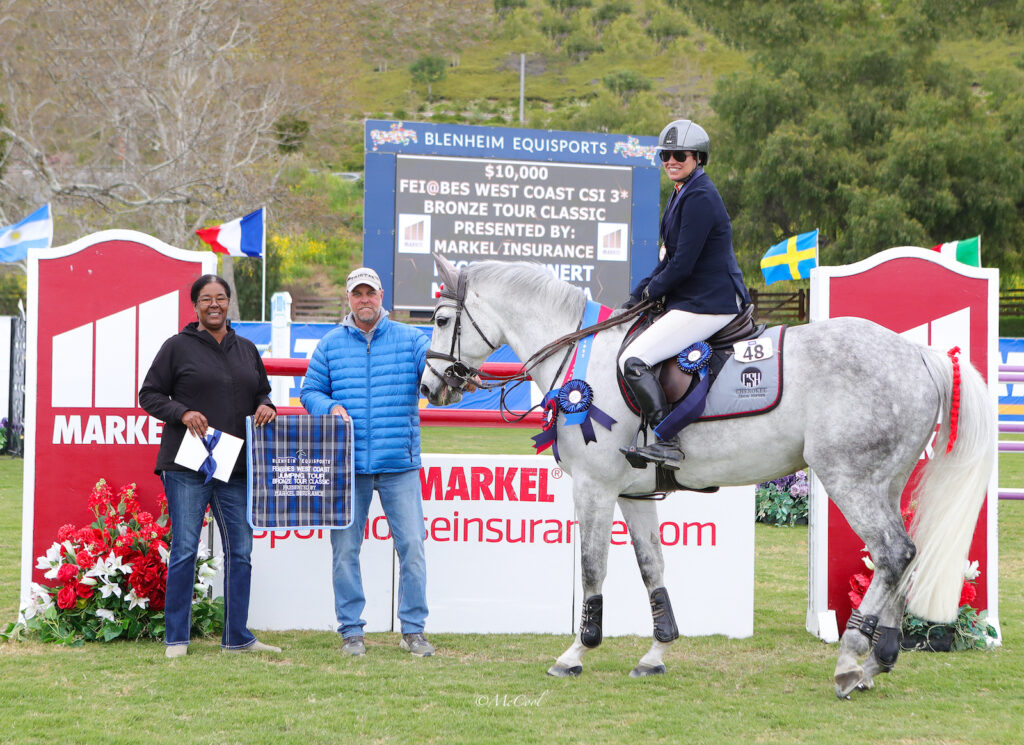 Haunert continued, "With that few being clean, my plan was just to go double clean. Lavista usually always jumps clear, but I made a mistake the week before and went very fast in the speed, and she didn't love that. She's moving up, and we have big plans for her this year, so again, just double clean, fast enough but not crazy."
As the first to return, Haunert rode My Lady Lavista to her plan, crossing the timers in 43.02 seconds. Then, with Concolue, she produced a nearly identical effort, finishing in a close 43.17 seconds to secure both first and second place. Third place with four faults in a time of 41.08 seconds went to Matias Fernandez Cuevas and Dancing in the Dark Z, owned by Lauren Kee.
"With Concolue, I meant to go faster!" laughed Haunert. "I wanted two really solid double clean rounds honestly to finish the week off before we come back in May for the CSI2*. I just wanted them to finish the week strong and happy."
Haunert has been partnered with My Lady Lavista, a 9-year-old Holsteiner owned by Cherokee Show Horses Inc., for three years, and has bright hopes for the mare's future.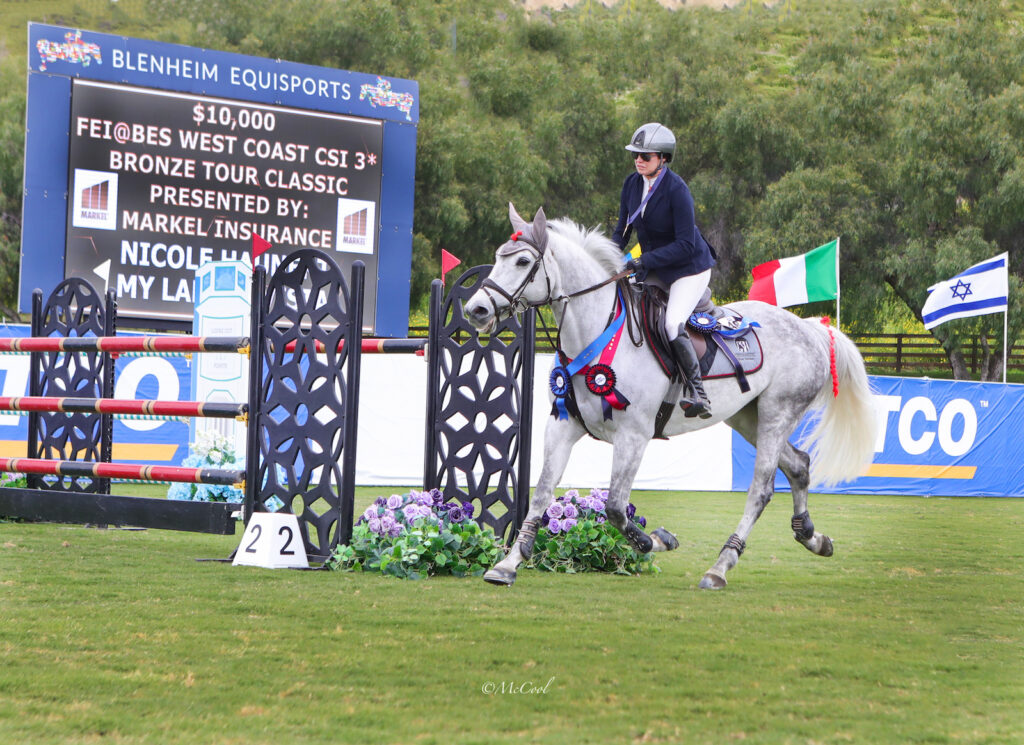 "She's very, very special," said Haunert of the mare who won the 7-Year-Old Young Jumper Finals at Blenheim EquiSports two years ago. "We really didn't push her her 8-year-old year. We really chose to give her a year of just confidence building because she is so careful. I think her 7-year-old year, she won 13 classes straight in the 7-year-old division. I always felt that rushing her would be bad. She's very little; she's a bit opinionated. So, at the end of last year, we started pushing her a little bit, and she handled it great. Then this year, I really started moving her up. I would say that she's my best horse at the moment, but she needs time."
Part of Haunert's plans for both My Lady Lavista and Concolue include returning for the San Juan Capistrano International CSI2* and Surf & Turf International CSI2* at Blenheim EquiSports on May 9-14 and May 17-21, respectively.
"Being out here on the West Coast, last year we had to travel a lot [due to EHV-1]," explained Haunert. "We are all just so grateful to Blenheim for stepping up and having these FEI dates for us and bringing more of the FEI to the West Coast. We all know it's not easy, but it's what the West Coast needs. We're over-the-moon grateful that they're bringing it. There are a lot of us that carry many FEI horses that are very, very appreciative."
For her win in the $10,000 CSI3* 1.40m Bronze Tour Classic, Haunert received a Blenheim EquiSports coolerette and a gift certificate to Riderzon. In addition to counting toward the Markel Insurance Jumper Series standings, the one-two finish in the Classic also earned Haunert points toward the $25,000 ATCO Leading FEI Rider Bonus. 
To learn more about Blenheim EquiSports and upcoming competitions including the Longines FEI Jumping Nations CupTM USA on Sunday, May 14, visit www.ThePlaceToJump.com. Find out more about this spring's Nations Cup USA at www.USANationsCup.com.