San Juan Capistrano, CA – April 9, 2023 – On Saturday, April 8, Karius demonstrated why Portugal's Bruno Diniz Das Neves believes the 8-year-old Dutch Warmblood will be one to watch in the future, as the gelding jumped to victory in the $20,000 CSI2* 1.35m Bronze Tour Classic, presented by Markel Insurance, at the Blenheim Spring Classic I.
Diniz Das Neves and Karius were one of 17 entries to take on the Peter Holmes-designed course on the Derby Field at the Rancho Mission Viejo Riding Park on Saturday, and they were one of five combinations to qualify for the jump-off. With the advantage of being the final rider to return, Diniz Das Neves focused on achieving a steady, clear round and using Karius' stride to his benefit.
"Karius is a very powerful horse," explained Diniz Das Neves of the horse that he has been partnered with since late 2022. "He has a big stride, but he's not exactly like a speed horse. I thought the best way I could do this was to use his big stride and just be very efficient in every turn."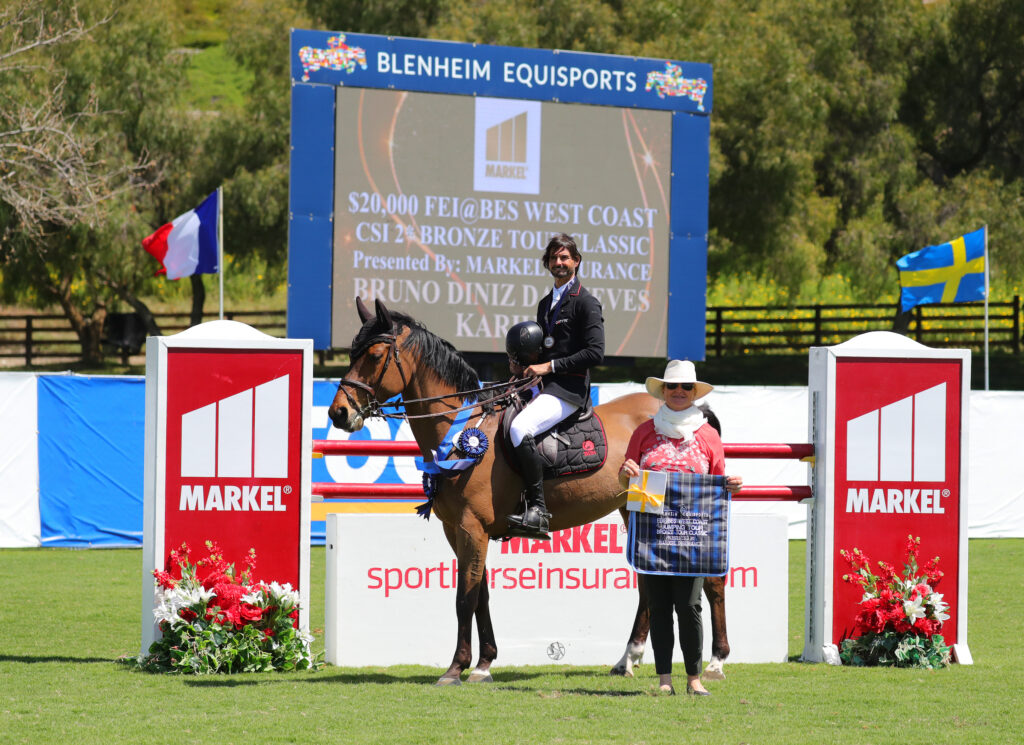 His plan worked, and Diniz Das Neves crossed the finish in a clear 41.52 seconds for the win. Second place with a time of 43.15 seconds went to Laura Kotimäki-Hurd and her own Jeekee van de Langvelden Z. Finishing in third place with four faults and a time of 37.94 seconds were a duo that won the $5,000 CSI2* 1.35m Bronze Tour Speed Stake earlier in the week, Kyle King and Sig Chiari, owned by Sig International, Inc.
"It felt really good!" said Diniz Das Neves of his win. "I think he's a very special horse. I think he's one of those one-in-a-million to be honest."
Since acquiring the gelding, owned by Mirasol Equestrian, LLC, Diniz Das Neves has been focused on bringing him along carefully. On Thursday, the pair jumped to a 10th-place finish in the $25,000 CSI2* 1.45m Silver Tour, before Diniz Das Neves made the decision to stick to the Bronze Tour on Saturday.
"That was his first speed [on Thursday]; he had one time fault," explained Diniz Das Neves. "But with that, I felt like, 'Okay I could do the [Silver Tour] grand prix. I know he could, but I just felt, 'Let's not overdo it.' And what can I say? He jumped amazing. He was happy. He was feeling like, 'Oh, now I can play with this again!' When they go up in height and then they go back down, I think they feel like they are having a little break."
Diniz Das Neves continued, "[Karius] is part of a string of horses that I have now. I have four 8-year-olds and one 9-year-old. He has all the scope. He's very smart and very, very careful, but he also has a lot of character, so he likes to play. In the beginning, he would play with me during the courses. He's a horse that you can see that you have to take a little time with him because he can do it, but at the same time, he's got his own personality. I just think that's what makes them special. He's just getting better and better. I think it's a horse to do the big sport if he's well produced; he's going to be one of those special horses that can jump everything. I'm very excited with him."
For the victory on Saturday, additional prizes presented to Diniz Das Neves included a gift certificate to Riderzon. 
Also earning a Bronze Tour victory during the Blenheim Spring Classic I was Kate Hovland who topped the $1,000 CSI2* Bronze Tour Power & Speed aboard her own Cruz. For full results of all classes, click here or visit showgroundslive.com. 
Blenheim EquiSports is the place to jump all season long, with competition resuming on Wednesday, April 12, with the Blenheim Spring Classic II. Running through Sunday, April 16, the Blenheim Spring Classic will feature the $100,000 CSI3* ATCO Gold Tour Grand Prix. Throughout the Blenheim Spring Classic series, FEI riders earn points toward the $25,000 ATCO FEI Spring Series Rider Bonus. 
Other highlight events this spring at Blenheim EquiSports' home at the Rancho Mission Viejo Riding Park include the Longines FEI Jumping Nations CupTM USA on Sunday, May 14. To learn more about Blenheim EquiSports, visit ThePlaceToJump.com, and to find out more about this spring's Nations Cup USA, visit www.USANationsCup.com.