San Juan Capistrano, CA – September 17, 2022 – Skylar Wireman firmly punched her ticket to the National Horse Show with a victory in the NHSAA/ASPCA Maclay Region 8 Championship, held on Saturday, September 17, at Blenheim EquiSports in San Juan Capistrano, CA.
Finishing as the reserve champion behind Wireman and her winning mount, Famous, was Isabella Holway riding HD Washington. Third place went to Stella Buckingham aboard Vondel DH Z, and Kyle Cline finished in fourth riding Cruseon.
In total, 32 entries each vied for 21 qualifying spots for the ASPCA Maclay National Championship, to be held on Sunday, November 6 during the National Horse Show in Lexington, KY.
All 32 riders were tested over fences in front of judges Cynthia Hankins and Wendy Peralta before returning for a flat phase. From there, Hankins and Peralta deemed no additional testing necessary before crowning Wireman the winner.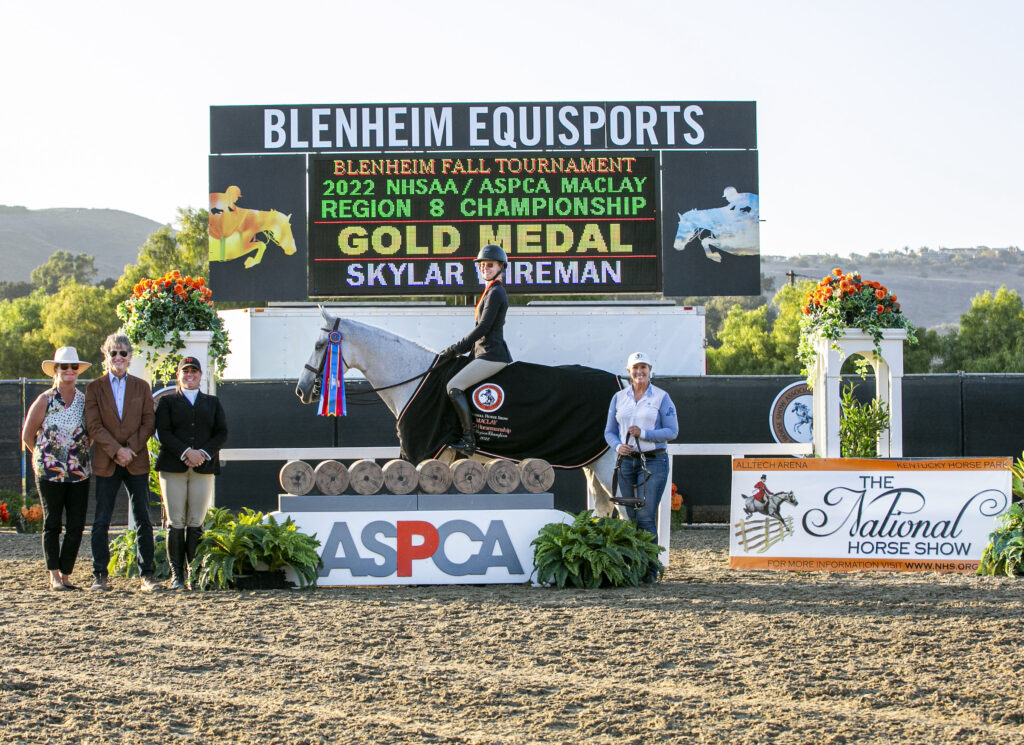 For Wireman, this marked her second time winning the NHSAA/ASPCA Maclay Region 8 Championship – having also won the class in 2020 – but this time felt particularly special, thanks largely to enhancements made to the new Grand Looke Arena at the Rancho Mission Viejo Riding Park.
"I think this was extra special because Georgy [Maskrey Segesman] provided so many of the Maclay Finals-style jumps, which I thought was really amazing," said Wireman.
In addition to incorporating fences replicating those seen at the Maclay Finals – such as an ASPCA log fence, a standardless white triple bar, a coffin jump and starting gates – the Blenheim EquiSports team donned the ring with signage and decorations in the National Horse Show's signature orange and blank. From the VIP tent overlooking the ring, a full-house of spectators watched ringside and enjoyed a special Maclay VIP dinner, adding to the atmosphere of the event.
"It definitely brought a whole new level to the class, adding all of those jumps," continued Wireman. "I thought it was great because now everyone is going to feel better prepared going to Kentucky this year having jumped some of these spookier jumps that we see at the National but don't see anywhere else."
Wireman, who trains with her mother, Shayne Wireman at Chestnut Hills Equestrian Center, earned the win aboard Famous, a 12-year-old Dutch Warmblood gelding, owned by MKT Investments LLC.
The victory on Saturday comes among a string of victories at Blenheim EquiSports for the pair, as they also topped the USHJA Gladstone Cup Equitation Classic – West in July and the CPHA Foundation Medal Finals in August.
"I've only been riding him for about a year, but he's really come along to be quite the equitation star," said Wireman. "He was previously a jumper. This year we've added some pretty good accolades onto our resume, so I was definitely feeling ready for a big final like this with him. I know I can count on him. He doesn't look at the jumps. He knows his job and just canters around."
For the win with Wireman, Famous received the Vigo Perpetual Trophy, presented by the Stiegler family in memory of Vigo and awarded annually to the best equitation horse in the ASPCA Maclay Region 8 Championship.
Wireman also received a trophy ribbon and cooler, an ASPCA gold medal and a Riviera EquiSports leather halter.
Prior to the start of the class, another special honor was presented to 16-year-old Lillian Muzzy. Muzzy was named the recipient of the seventh annual Shelby Drazan Memorial Award, for which she will receive roundtrip air transportation for one horse to the East Coast for the "Indoors" season, courtesy of Tex Sutton Equine Transportation Company, and $2,000 from the Drazan family to be used toward her entry fees for any of the year-end equitation finals.
The Shelby Drazan Memorial Award was established by the Drazan family, together with Tex Sutton Equine Transportation Company, in honor of equestrian Shelby Drazan. It is presented annually to a junior individual who has displayed sportsmanship, integrity and passion in the show arena and in their community.To be eligible for the award, all interested candidates were required to submit a written essay.
For this year's judging panel what struck them most was how, even though important, a life with horses is just one small aspect of Muzzy's upbringing and beliefs.
Muzzy trains with Shayne Wireman and competes her horse Baldeur in the 3'3" Small Junior Hunters and the 3'3" equitation. She plans to show in the Taylor Harris Children's Medal Final at the Capital Challenge Horse Show and the 3'3" NHS Hamel Foundation Medal Finals in Kentucky with hopes of competing in the hunters at the Pennsylvania National Horse Show.
Outside of horses, Muzzy serves her church in the Altar Service Ministry, and she has been deeply involved with supporting new mothers, grieving families and the mentally disabled through the various programs she is involved with. Now in her teen years, Muzzy has added fostering puppies for the Fallbrook Animal Sanctuary and volunteering for the IEA Hunt Seat Program for Zone 10, Region 1 to her schedule.
For full results of Friday's NHSAA/ASPCA Maclay Region 8 Championship, click here.