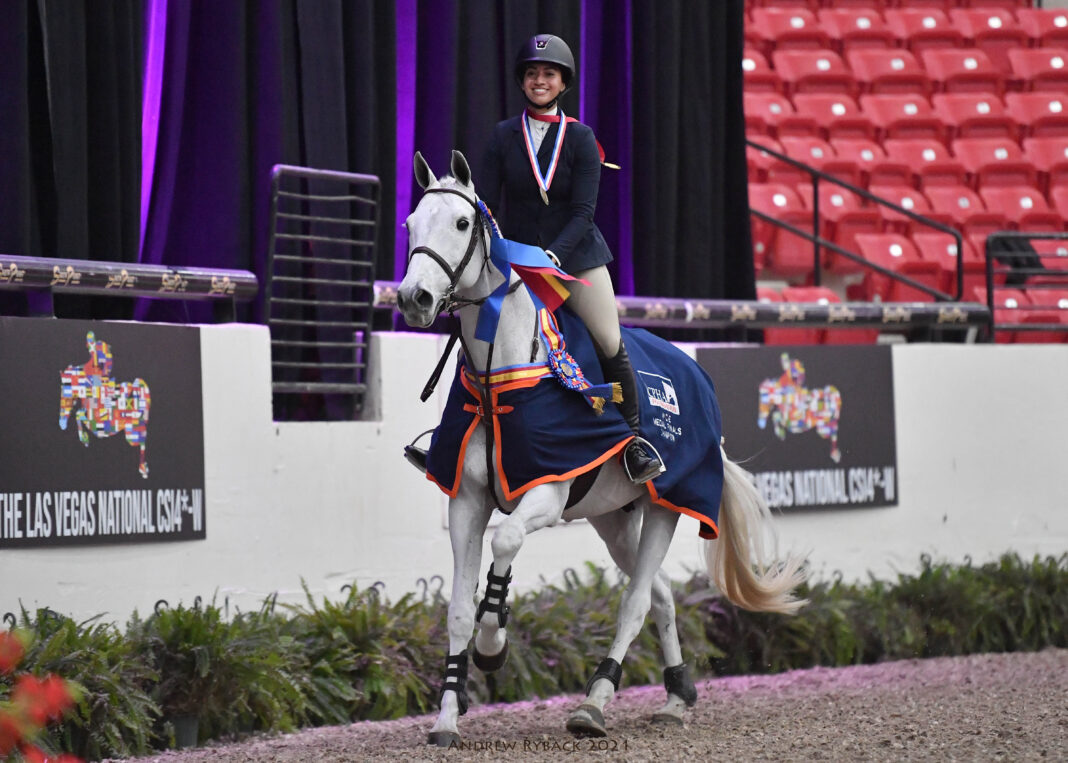 Las Vegas, NV – This year marked Alissa Brandt's first year competing in the equitation, but she looked every bit a veteran as she navigated three rounds of competition to ultimately take the win in the West Coast Equestrians (WCE) Junior/Amateur Medal Finals at the Las Vegas National CSI4*-W, held at the South Point Hotel, Casino & Spa.
The class, made possible by the California Professional Horsemen's Association (CPHA) Foundation, kicked off on Friday, November 19, with a first-round, power-and-speed-style jumper course, judged on equitation. All 36 entries that completed the course were invited back for round two on Saturday, November 20, and the top 10 then immediately returned for a final, deciding round.
At the end of day one, 18-year-old Brandt sat in ninth place with a score of 82 from judges Frank Madden and Timmy Kees. A second-round winning score of 89 would then move her up into fifth place overall, and her final test over jump-off-style speed track, designed by Catsy Cruz and Guilherme Jorge, would shoot her straight to the top of the leaderboard.
Finishing in second place, in both the second round and overall, was Eliza Broz riding Clooney 62, owned by Constance Broz, and third place went to Gabrielle Sokolow riding Go For It B, owned by Sophie Root-Stevens. Rounding out the top four was the day one winner, Naomi Wegner on her own First Choice.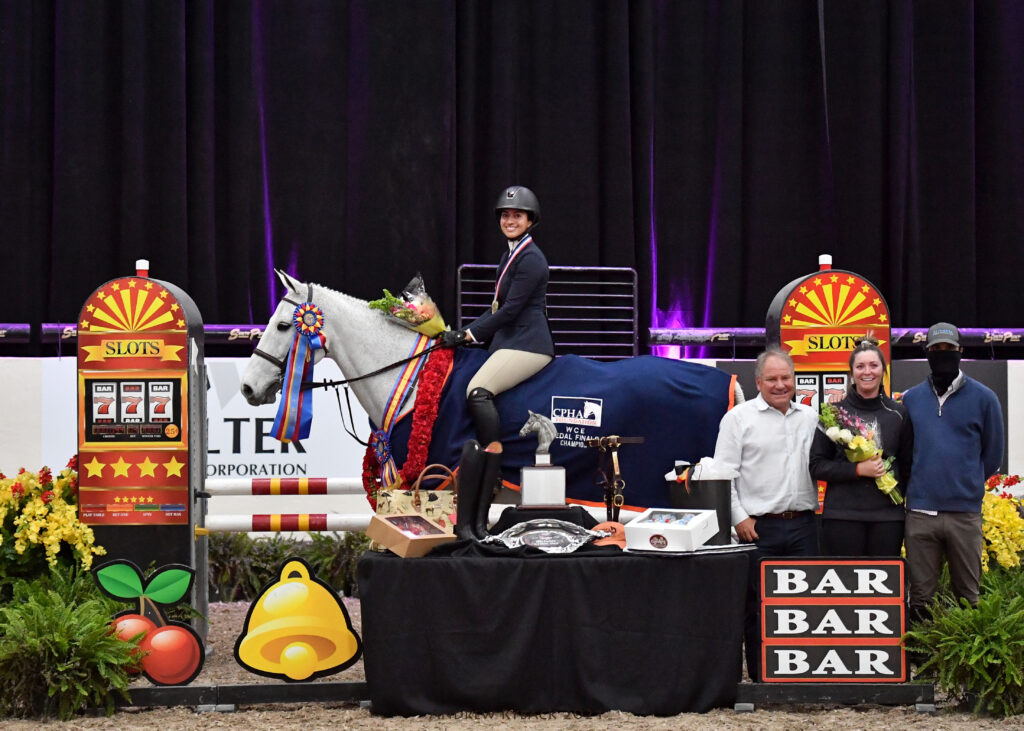 "It's so surreal!" said Brandt, who earned the win aboard Caracas 89, owned by Elvenstar Farm. "I don't think I've ever won anything this big before! It's really overwhelming, and I'm so, so thankful for my full team and this horse. He's amazing."
Just two months ago, Brandt qualified to compete for the ASPCA Maclay Final, but she did not yet have a horse that would be up to the job of competing at the fall's indoor horse shows.
"My horse at home just can't yet quite take the pressure of the finals and everything," explained Brandt, who trains with James Hagman at Elvenstar Farm. "I'm very, very thankful that I have Jim [Hagman] and that he has Caracas. Caracas has had quite the history, so I feel really, really special to be able to have taken him back East!"
The 13-year-old Holsteiner has been a part of numerous equitation wins for many top junior riders throughout the years, and Hagman felt that Brandt and the gelding would be the perfect fit.
"They have great feeling for each other," said Hagman. "It's beautiful to watch. He has to have a good rider, and she did a great job."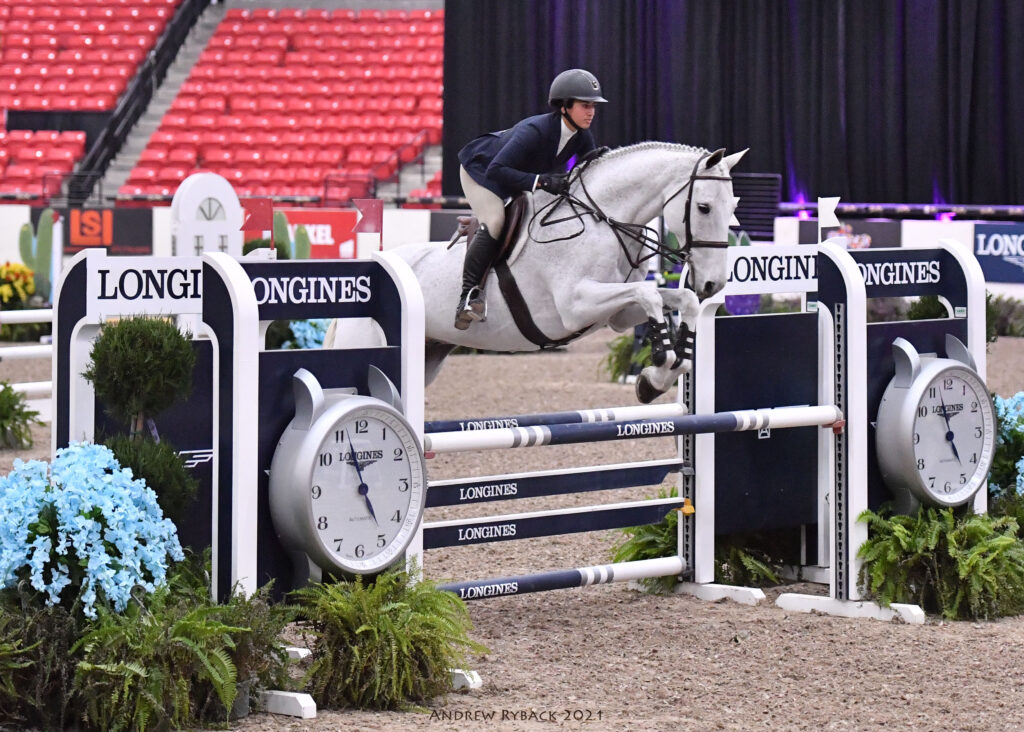 Following a successful trip East for the National Horse Show in Lexington, KY, and the Pennsylvania National Horse Show in Harrisburg, PA, that saw Brandt finishing just outside of the final cutoff in the Dover Saddlery/USEF Hunter Seat Medal Final, Brandt and Caracas returned West for the final equitation final of Brandt's junior career.
"Caracas was so perfect," said Brandt. "I couldn't have asked for it to have gone any differently. I really loved it. I really thought the courses were really well done and asked all the right questions. They were technical enough as far as the size of the ring and everything. I thought in the second and third round, there were lots of opportunities as far as inside turns and everything that you could try and really go for it."
Now, Brandt will return home to Scottsdale, AZ, to spend the holidays with her family before heading to California for the winter season – and before hopefully returning to the Las Vegas National CSI4*-W again in 2022.
"I love it here!" said Brandt. "I think it's really fun that there are lots of things to do around the show as well, but I think that this whole show is set up in a really fun and special way."
For the win, Brandt was presented with a copious number of prizes, including a gift certificate for a pair of DeNiro Salento Boots, provided by Outdoor Outfitters; a CPHA duffle bag and baseball cap; a blanket provided by DaMoor's Tack & Feed; horse treats from Harlow's Heavenly Horse Treats; and $1,500 in Blenheim EquiSports show credit for the 2022 season.
For full results of all three rounds of the WCE Junior/Amateur Medal Finals, presented by the CPHA Foundation, click here. To learn more about the Las Vegas National CSI4*-W, visit www.TheLasVegasNational.com.